Blog Home
Hike Odenton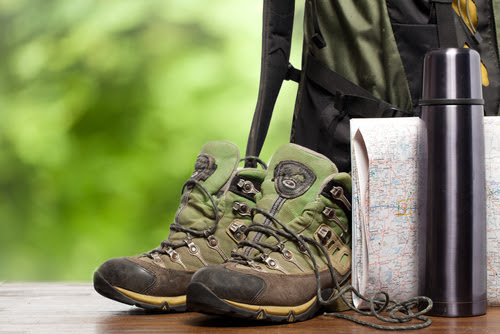 This fall take some time to get back to nature and explore some of the many hiking areas in the greater Odenton, MD area; Yelp has a multitude of suggestions with a list of the Best Hiking in Odenton, MD. Some of the suggested areas are within a ten mile radius of our apartment community, and some are a bit farther away, so choose based on how adventurous you're feeling or how much time you have. Today the Riverscape Blog has some tips to make long or short hikes go more smoothly.
10 Helpful Items to Take on a Hike
First Aid Kit —

Get a basic first aid kit at any outfitter supply store. It's good to be prepared for emergencies.

Footwear — Make sure your footwear is appropriate for the terrain. For a short day hike in easy terrain, trail shoes are fine. For a longer, more difficult hike opt for hiking boots.
Water — Make sure you take water. Remaining hydrated is important for your health, and it's no fun hiking and feeling parched the whole way.
Rain Gear and Extra Clothing — Be prepared for a change in the weather, and dress in layers which will allow you to warm up or cool down. Take a rain poncho too.
Sunscreen and Glasses — Avoid the glare and getting a sunburn.
Extra Food — Having extra food with you can be a boon. It will help you maintain your energy level should you become lost, tired, or simply be out longer than you planned.
Multi-function Tool — Handy for a variety of hiking needs, having a multi-function tool on hand can aid with creating bandages, removing splinters, and fixing broken gear.
Daypack/Backpack — Bring a comfortable, waterproof daypack, or for longer hikes a backpack, to carry essential supplies.
Compass — If your phone doesn't have a compass built in, bring one with you. Learn how to use it accurately before you head out.
Hat — A hat provides shade in the sunlight and protection from rain showers. It also helps hold body heat in should you start to chill.
Where are your favorite places to go for a hike in the Odenton area? What is your must-have item for when you are out hiking? Let us know in the comments, and thanks for reading today's post.