Blog Home
Halloween Treats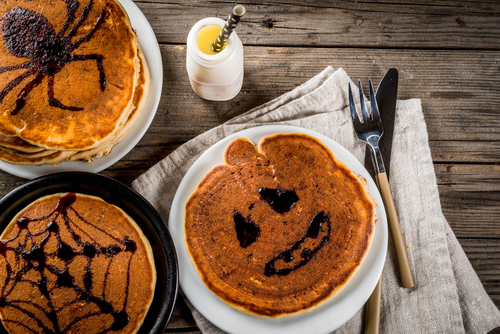 It's October which means that fall is officially upon us here in Odenton, MD. The nights are colder, the evenings have a slight chill, and sweaters are finally being pulled out of drawers to see the light of day. Fall also means that it's time for us to get baking. The Riverscape Blog is featuring six different treat recipes just in time for Halloween that we think residents in our apartment community should try out. We include both traditional and non-traditional recipes on our list. We hope you enjoy these desserts!
"This recipe takes pumpkin pie to a whole new level, with drizzled caramel, chopped pecans and airy Cool Whip® Whipped Topping. Cue the applause."
Frozen Pumpkin Pie Cheesecake from Life, Love, and Good Food
"Fall" and "pumpkin pie" might as well be synonyms. This easy treat uses cream cheese, sweetened condensed milk, pumpkin puree, and graham crackers for the sweetest (and creamiest) pumpkin pie you've ever tried.
Salted Caramel Butter Bars from Recipe Diaries
These salted caramel butter bars are certainly full of butter. The recipe calls for a pound of salted butter, fourteen ounces of caramel candies, and plenty of sugar, so you know it's good. We think that these are a great dessert option if you need to bring something to a dinner party or a potluck.
What do you get when you multiply your love for cookies by two and add some chocolate ganache and candy eyes to a treat? A to-die-for, rich, completely homemade treat that will make you and your friends swoon. These are probably some of the friendliest-looking monsters you'll see this Halloween, and you get to eat them all up!
"This is a lighter alternative to pumpkin pie. I have not doubled this recipe, so I don't know how that would turn out, but I'd like to know if someone does."
Candy corn and white chocolate softbatch cookies
Even if you hate candy corn, like much of the general public does, you're sure to love these thick, creamy cookies. The candy corn adds a chewy texture to the cookie, and the white chocolate just complements the sweet flavor of the cookie and candy corn. If you love candy corn, this recipe might leave you dreaming about the cookies, like it did to the author's daughter, days after you've taken your last bite.
We hope you enjoy these autumn treats during this month and Happy Halloween to everyone at our apartment community.